Cycling Without Age
After a lifetime of active ministry, Sisters living at St. Francis Convent - especially those with physical, cognitive, or neurological disorders - can sometimes feel disengaged from the outside world, leaving them feeling lonely and anxious. The Cycling Without Age program is an innovative way to take our Sisters outside to enjoy the fresh air and re-engage with the broader community.
The simple and enjoyable act of cycling outside on a nice day, greeting people and pets, and exploring the surrounding neighborhood - including the beautiful Lake Michigan shoreline across the street from the convent - will promote physical, intellectual, and social wellness. It will help our Sisters maintain and deepen their connections to the outside world - both people and nature - that is so vital to their emotional and spiritual health.
Cycling Without Age Components
The Cycling Without Age Program consists of an electric-assist trishaw and a volunteer driver (pilot). The trishaw securely and comfortably seats two Sisters and one pilot. The trishaw includes a warming blanket, canopy, and safety buckles to keep Sisters comfortable and safe. We are partnering with Wisconsin Bike Fed on recruiting and training volunteer pilots and promoting the program to our Sisters. The estimated cost of the program is $25,000.
If you are interested in supporting the Sisters of St. Francis of Assisi's Cycling Without Age program, please email Nancy Ketchman, Director of Advancement, or call 414-294-7329.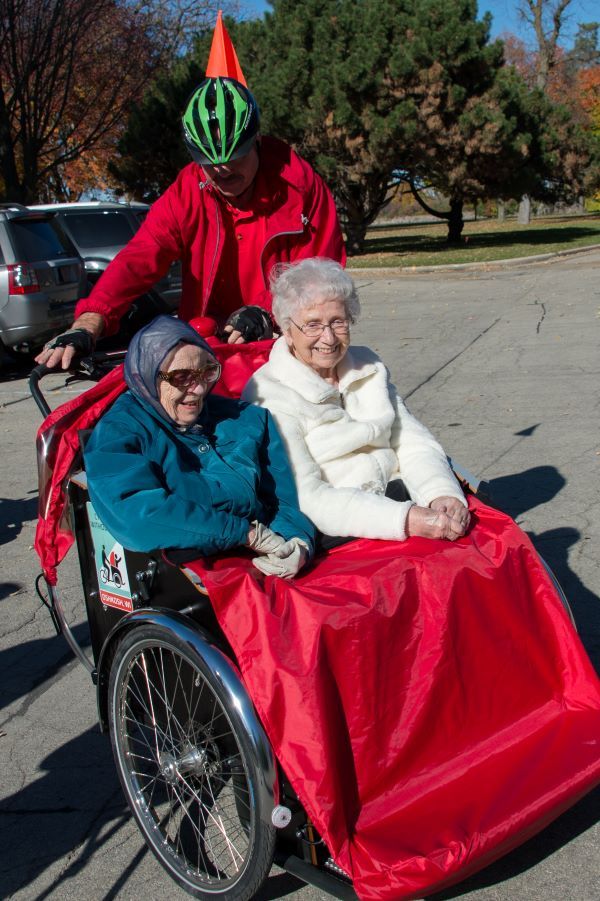 Top and above photos: Wisconsin Bike Fed