Sisters of St. Francis of Assisi Leadership Team
Sister Diana De Bruin, OSF
Director
Sister Diana has served in congregation leadership for 16 years – eight years as director, and eight years as an associate director. She was professed in 1971.
Over her years of ministry, Sister Diana has served as an elementary teacher, pastoral associate, and credit counselor for the inner city of Milwaukee for ACTS (Allied Churches Teaching Self-Empowerment) and Dominican Center.
She looks to the future of the Sisters of St. Francis of Assisi with joy and faith in God's providence.
"I believe in this congregation, the Sisters of St Francis of Assisi. Our ever-faithful God has been with us from our founding in times of joy and in times of challenges."
"And so, I join with Sister Constance Fitzgerald, a Carmelite, who has said:
Here lies our hope - in giving ourselves deeply and unfailing to the mystery and movement of the Living God. We can move forward together, into an unknown future, making whatever decisions we need to make, letting go of whatever we need to let go of, waiting in joyful hope because we know that Holy Mystery is utterly trustworthy. We hear the words spoken to Jeremiah: I know the plans I have for you. Plans for your well-being and not your woe. Plans for a future full of hope.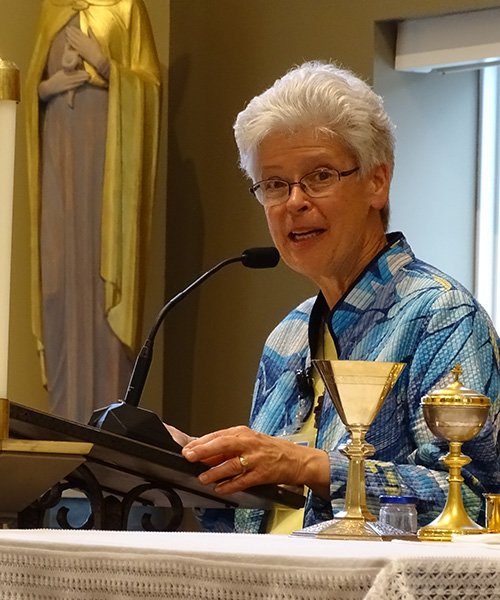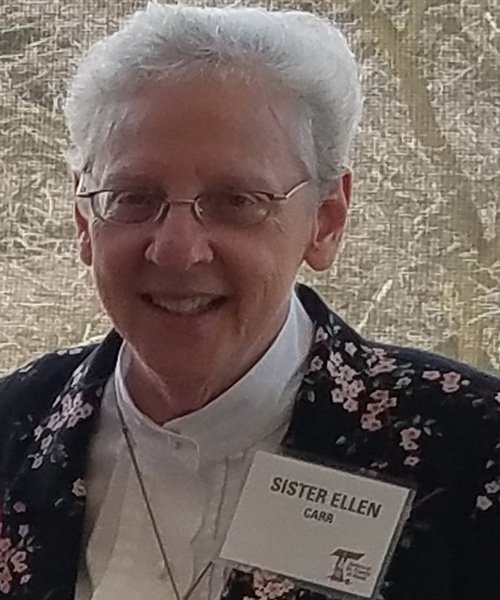 Sister Ellen Carr, OSF
Associate Director
Prior to entering the Franciscan Sisters of Baltimore, Sister Ellen earned a bachelor's degree in economics and a master's degree in urban and regional affairs. She worked as an economic development planner for the Appalachian region of the state of Pennsylvania.
After entering the Franciscan Sisters of Baltimore in 1977, Sister Ellen opened the congregation's residential program for adults with developmental disabilities, which eventually served 39 residents through Catholic Charities. In addition, she served as the spiritual director for 150 residents throughout the greater Baltimore area.
Sister Ellen became the advancement director for St. Elizabeth School for Special Education and the Franciscan Center outreach program for the economically disadvantaged, both in Baltimore. Over $8.5 million was raised for the expansion and renovation of these ministries. She also led the effort to plan and raise the required funds for renovation of the former Motherhouse of the Franciscan Sisters of Baltimore. Two-thirds was sold to a non-profit low-income housing developer. The remainder was renovated to become the home for the elder Sisters. Sister Ellen became the property manager for the property owned by the Sisters.
While this planning and management was under her responsibility, she also became interim executive director for a year for the Franciscan Center.
In 2016, Sister Ellen moved to Milwaukee to serve as the development director for the new convent.
In June 2019, she was elected as associate director of the congregation's Leadership Team.
Sister Ellen's favorite quote is:
I am the vine, you are the branches. -John 15: 5
Sister Kathryn Dean Strandell, OSF
Associate Director
Sister KD (as she prefers to be called) has been a member of the Leadership Team since 2019. She was professed in 1963.
Sister is a proud alum of Cardinal Stritch University (1970/1975). She began her teaching ministry in Yorkville, Ill., where she taught children with special education needs. From there, she served at the Saint Francis Children's Activity and Achievement Center.
Sister KD then returned to Cardinal Stritch College, where she was a learning instructor at the Reading and Learning Center. She also taught in the Education Department in both the undergraduate and graduate studies programs, teaching a course on Whole Language. Other ministries included positions as an elementary school principal in the Archdiocese of Milwaukee and as a parish religious education coordinator.
Sister KD's favorite quote is:
Anyone can count the seeds in an apple. Only God can count the apples in a seed. (Author unknown)