Aisling Retreat House
Aisling Retreat House Is a Spirit-Filled Haven of Hospitality and Hope
St. Francis of Assisi believed the greatest poverty was spiritual in nature, a poverty of the heart expressing a deep longing for God's presence. With that as their inspiration, the Sisters of St. Francis of Assisi at Aisling Retreat House provide a sacred place of prayerful, loving presence.
The word "Aisling," pronounced "Ash-ling," is an Irish word that means "vision, hope and dream." Aisling Retreat House, now in its 29th year, is ecumenical, open to people of all faiths and no faith. Located in Manchester, Md. near the border of Pennsylvania, Aisling is a small retreat house on eight acres with group space for 15-20, and overnight space for eight people. Sister Eileen Quinn, the director, serves with Sisters Mary Therese White and Cecilia Reilly. They were the original staff when Aisling opened in 1994.
The retreat programs are designed to empower people to embrace the beauty of their belovedness in God. The ministry includes individual, guided, and directed retreats on various themes such as "The Tenderness of God," "Awakening to the Glimmers of Grace All Around Us," "Women Mystics," "Jesus as Our Psychotherapist," as well as reflections on Franciscan and Celtic spirituality. In addition to retreat programs, Aisling offers day and weekend workshops on many topics such as aging, grief, and the Enneagram.
A large part of the ministry is psychotherapy offered by Sister Eileen, and spiritual direction offered by all three Sisters. Since COVID, these services have expanded to include virtual meetings with people all over the world. There are also times when the Sisters are invited to host memorial services in their chapel and they design beautiful funeral booklets to enhance the liturgical experience.
Sister Cecilia, 93, gave up her license as a certified massage therapist four years ago. Today, her ministry includes welcoming the retreatants, helping to prepare the meals, and spending many hours praying in the chapel.
Sisters Mary Therese and Eileen offer offsite retreats, workshops, and facilitation to parishes and religious communities.
The three Sisters continue to be amazed at the abundant goodness and blessings God bestows on the Aisling ministry. Despite minimum advertisement over the years, people continue to come from all walks of life. They are drawn to this small retreat house not just for the home-cooked meals and simple beauty of the house and grounds. They experience Aisling as a place of spiritual intimacy where relationships are valued and individual stories are reverenced.
For further information, go to Aisling Retreat House.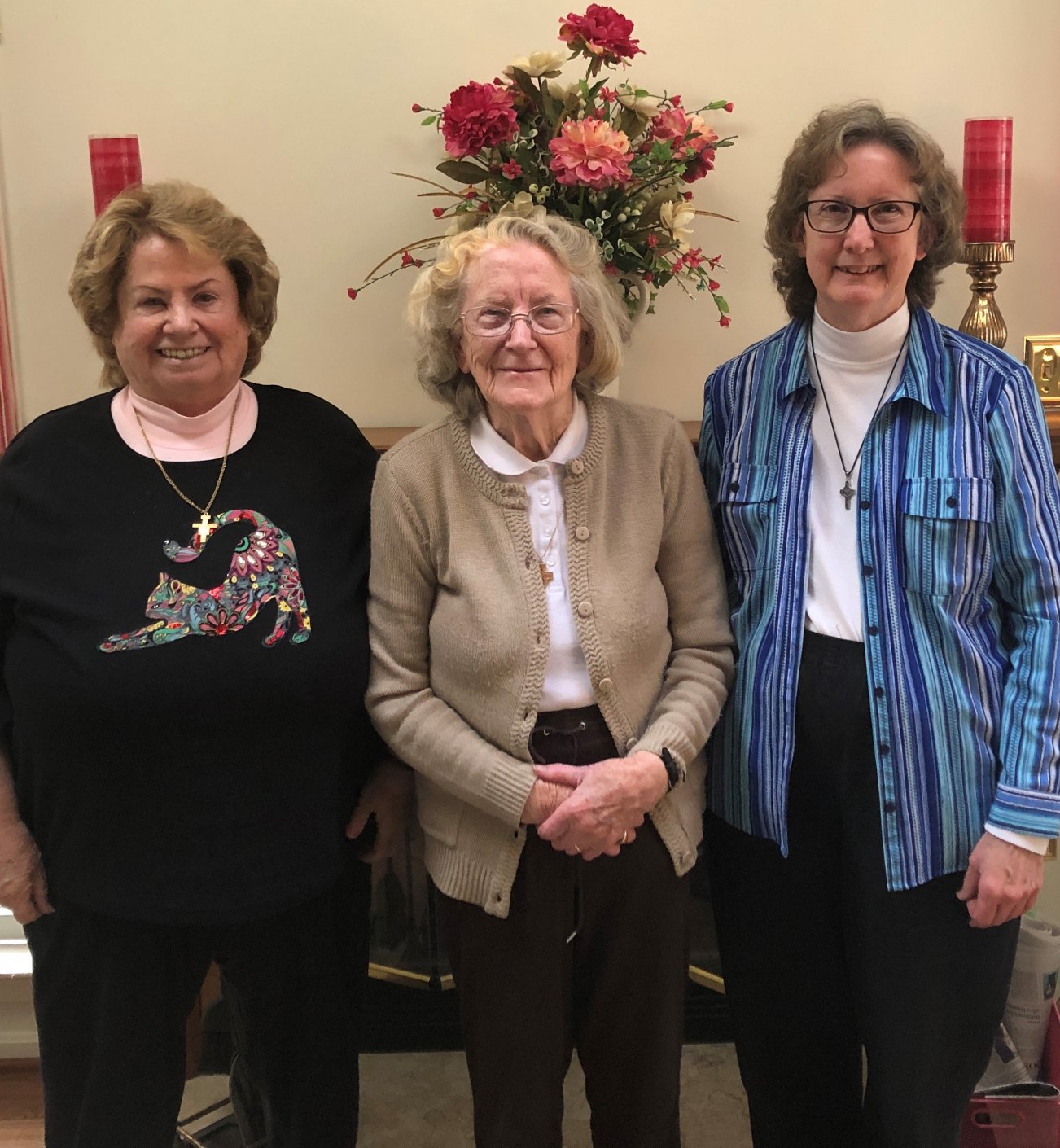 (l to r) Sisters Eileen, Cecilia, and Mary Therese