The 2022 Christmas tree in the St. Francis Convent Town Square was a testament to the creativity and hard work of the retired Sisters who created the ornaments, and to Larry Willkomm, environment coordinator for the congregation. Their work was recognized and celebrated in the December 18 issue of the Milwaukee Journal Sentinel newspaper (click to read more Home-grown, homemade ornaments on St. Francis convent 'winter tree' (jsonline.com). Reporter Joanne Demski visited the convent on November 21 to see the tree in person, and to interview Larry and Sisters Mary Jerome Lacy, Rosalynn Dzikonski, and Margaret Klotz.
The tree was unique with its simple and elegant display of ornaments and garland created entirely from the bounty of the convent gardens, orchards, and grounds. Each ornament was crafted by hand from natural elements such as corn husks, lunaria, Chinese lantern plants, dried hydrangea blossoms, star gourds, dried apple slices, strawberry popcorn, pinecones, and strings of hot peppers. The crowning touch was a colorful and artistic mix of branches and twigs of white and red. Many of the ornaments took the shape of a star; others formed objects such as angels made from corn husks and milk pods.
The tree was a work of art, and the reporter from the newspaper was awed at the variety of ornaments, and by the tedious work of the dozen or so retired Sisters who volunteered to create each piece by hand.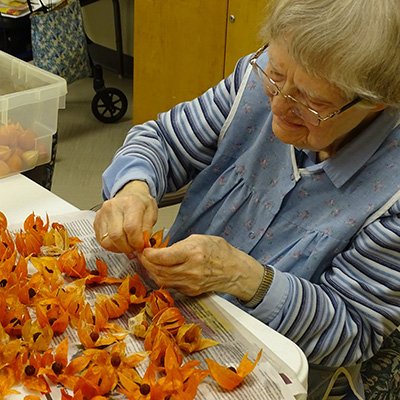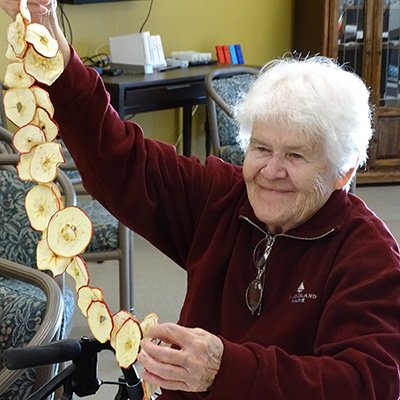 Ms. Demski interviewed Sisters Rosalynn, Mary Jerome, and Margaret about the ornaments each made, and the many hours they devoted to the project. All agreed that the ornaments reflected the Franciscan value of respect for nature and all of creation. All three spoke of the labor of love that went into their hours of work. The simple elegance of the tree shouts the beauty of nature and all she has to offer. A Journal Sentinel photographer visited the convent on November 30 to photograph the tree, the Sisters, and Larry, for the article.
In addition to Sisters Rosalynn, Mary Jerome, and Margaret, the following Sisters volunteered to create ornaments: Sisters Richelle Ranallo, Jodene Wydeven, Kathleen Denevan, Jean Mariani, Genevieve Van Driel, and Barbara Barry. Kim Brewer of the recreation department also worked on the project.